Our site consists of:
The Irwin Lodge
During the summer programs the Irwin Lodge serves as the dining hall, with a seating capacity of 130. Along with the kitchen, library, and offices, there are 14 bedrooms with 28 beds upstairs for use all year round.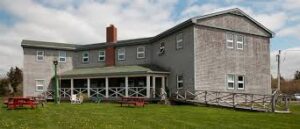 Margaret MacDougall Lodge
During the summer months it is home to our chaplains and their families.
Offered as a self contained rental unit the rest of the year. This lodge offers three bedrooms with 5 beds in total, a full bathroom, kitchenette, and meeting space with a wood stove. Enjoy the beautiful sunsets from the front porch.
The rest of the camp site features walking trails, access to the sandy beach, canoe dock on the lake, updated craft hall / rainy day activity area, gazebo, playing fields, sleeping cabins, nurses cabin, wash house, and two outdoor chapels.
For Rental Inquiries, please contact our Rental Officer: Lorraine Wright 902-926-2808   lorrainecwright@hotmail.com